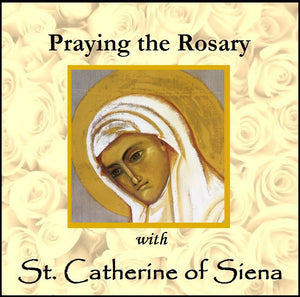 Praying the Rosary with St. Catherine of Siena CD
Volume 7 of our Rosary/Saint Cd Series is a treasury of wisdom from St. Catherine of Siena, a Doctor of the Church. Here are some things said about this Cd:
"This rosary CD has helped me so much. It has beautiful music underneath the prayers. There are meditations between the Hail Mary's to keep you focused on the fruit of the mysteries. What an incredible blessing. I would recommend all of them!"  jrobincpawife.
"Beautiful and deeply spiritual meditations accompanied by sacred music. Well worth the investment!"  By James L. Fisher
 Disc 1
THE JOYFUL MYSTERIES
The Annunciation (Humility)
The Visitation (Love of Neighbor)
The Birth of Christ (Spirit of Poverty)
The Presentation (Obedience)
The Finding at the Temple (Piety)

THE LUMINOUS MYSTERIES
The Baptism in the Jordan (Spiritual Childhood)
The Wedding at Cana (Marriage & Family Life)
The Proclamation of the Kingdom (Kingdom of God)
The Transfiguration (Light of Christ)
The Last Supper (The Holy Eucharist)


Disc 2
THE SORROWFUL MYSTERIES
The Agony in the Garden (Sorrow for Sin)
The Scourging at the Pillar (Purity)
The Crowning of Thorns (Courage)
The Carrying of the Cross (Patience)
The Crucifixion (Self-Denial)

THE GLORIOUS MYSTERIES
The Resurrection (Faith)
The Ascension (Hope)
The Descent of the Holy Spirit (Love of God)
The Assumption (Desire for Heaven)
The Coronation (Devotion to Mary)
---
We Also Recommend
---